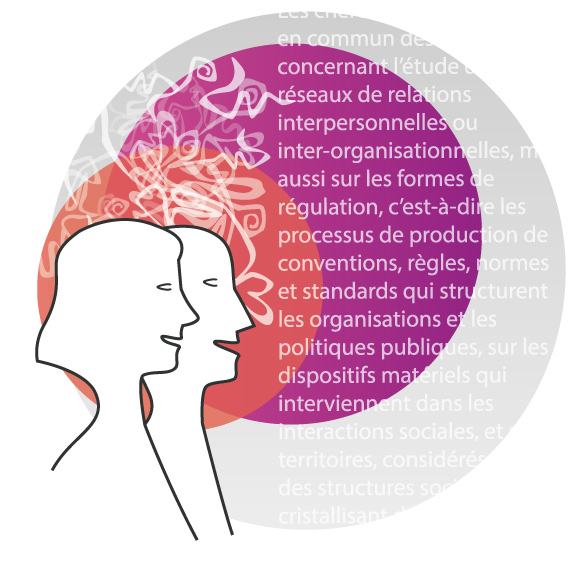 The Laboratory of Excellence Structuring of Social Worlds (LabEx SMS) is a collaborative research structure specialized in the study of humanities and social sciences. It was created in 2013 within the framework of the Programme d'Investissements d'Avenir for an initial period of 7 years and was renewed in 2020 until December 31, 2024.

It brings together 12 laboratories in Toulouse to collaborate on a common research project: the Structuring of Social Worlds.
The Project
The LabEx orient its research project around the analysis of the Structuring of Social Worlds.
The expression Social Worlds refers to the idea of forms that emerge from social activities and constrain them in return, without postulating the existence of a global coherence.
It aims to understand four types of processes and mechanisms that account for social dynamics and changes:
Interpersonal or inter-organizational networks
Material devices involved in social interactions and regulations
Forms of regulations that structure organizations and public policies
Territories that crystallize networks, devices and regulations
The LabEx actions

The LabEx organizes its actions around 6 main objectives:

Facilitating large-scale empirical research
The LabEx has set up 11 research operations to:
Allow a precise and multidisciplinary approach of the research conducted within the framework of the SMS project
Facilitate collaboration between researchers from different disciplines
The LabEx also offers its doctoral students and researchers workshops designed to provide them with useful methodological tools to advance their projects.
Creating a theoretical and methodological framework adapted to the project

The LabEx organizes seminars, debates and workshops. They allow its members to evolve in a theoretical and methodological framework specially designed for the study of the Structuring of Social Worlds.


Promoting and comparing research results internationally
The LabEx participates in the circulation of research results in the social sciences by offering:
Funding for the translation of French articles or books into foreign languages
Grants to its members for stays abroad
Grants for foreign researchers invited by SMS members
Strengthening multidisciplinary social science teaching in universities.

The decompartmentalization of university teaching is a major issue in the humanities and social sciences research sector. LabEx SMS allows master's students in Toulouse to join the SMS master's network free of charge. Their membership gives them access to additional courses that complement their training.


Accompanying young researchers for an academic career

Each year, the labEx supports doctoral and post-doctoral students by offering them the possibility of signing a contract with them.
It also supports its doctoral students in the creation of junior research laboratories to enable them to carry out a joint research project.
Contributing to the circulation of knowledge between the social sciences and society
The labEx supports and finances the bi-monthly digital magazine Mondes Sociaux. Its objective is to disseminate and make accessible the research work already published in the humanities and social sciences. Some articles are published in english.

It also supports the Laboratoire des idées, which enables citizens and researchers to collaborate on societal issues.