Historical Analysis of Social Networks and their Relationship to Power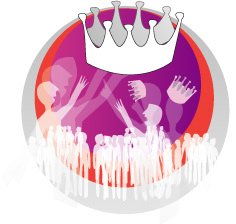 Research Group 6, "Historical Analysis of Social Networks and their Relationship to Power" (coordinators Michel Bertrand, Christine Dousset, Florent Hautefeuille, and Claire Judde de la Larivière)
includes historical studies on networks in multiple contexts. One study is underway on elites of the former Spanish colonial empire, which contributes to the collaborative database FICHOZ developed by J.P. Dedieu (Director of Research CNRS). For twenty years, this database has served as a shared tool for research carried out both in France and Spain on powerful groups in the Hispanic world of the 18th and 19th centuries. From the Notarial Archives of Puebla, scholars have been able to reconstruct the life histories and family genealogies of individuals identified as a point of entry into the world of local elites between 1770 and 1830.
Another study examines the political and practical skills and the common knowledge, expertise and agency of ordinary people, within a broad historical perspective. In particular, this project focuses on the genesis and configuration of these elements from the fourteenth to the nineteenth century, in order to show how ordinary people participated in a decisive way in the structuring of social worlds, whether they collaborated with political institutions or were excluded. Moreover, this study aims to compare these historical elements with current work by political scientists and sociologists, in order to analyze the historicity of the public action of ordinary people from the fourteenth century to today.
A final project studies the world of butchers in the 14th and 15th centuries in the cities of the Mediterranean world in order to reconstruct their ways in which they functioned as economic agents, whose importance goes far beyond strictly providing food. Given the value of the product butchers sold, this research seeks to uncover their role as 'financial' agents of the first order.